The newspaper readership is going down. Perhaps, the readership is at time low. I was wondering, could it be that Google alert, twitter, and other online breaking news services are killing the newspaper? Well, it could be the reason for decline in the newspaper readership. The graying readership is an indication of the trend.
In a poll conducted in December 2009 by Adweek Media and Harris interactive it was found that only people above 55 (64 percent) reads the news paper almost daily, whereas, only 23 percent young people (aged between 18 and 34) reads the news paper daily either online or in print. 17% youth in the same bracket said they never read the newspaper. See the image below for the complete result of the online poll conducted between December 14 and 16, 2009. It has a sample size of 2,136 U.S. adults.
The research will be a major blow to already declining newspaper industry as the major spenders do not read newspaper. The industry should gear up to move into related category before the revenue source dries out, or it should find a way to reinvent itself, if the industry wants to survive the digital blow.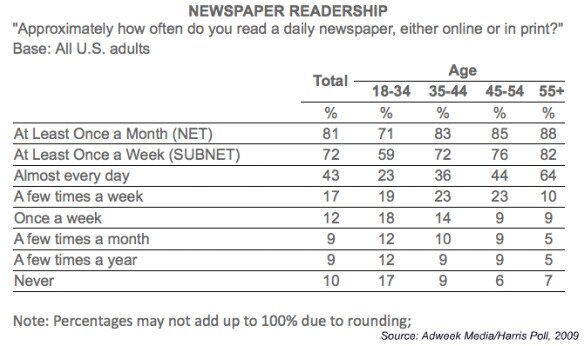 Tags: Adults, Adweek, Breaking News, Decline, Dries, Google, Harris Interactive, Image, News Paper, News Services, Newspaper Readership, Online News, Online Newspaper, Online Poll, Revenue Source, Social News, Spenders, Twitter
In a research conducted by Mediamark Research & Intelligence, it was found that more males than the females are using e-book readers in the United States. Why is it so? Why despite women being more into books and reading are not using electronic book reading devices? And why male members of society who read less than their female counterpart reads (or buys) more e-book readers?
The possible explanation to this could be their (male members) love for the gadgets or say everything that is electronic. And may be (here I am guessing), the men's love for gadgets has put the other half of their life away from it. After all, it is the matter of attention: who is paying attention to what.
Research findings
56.3% of e-book are men, where as female constitutes the rest 43.7% of the readers.
Adults aged between 35-54 are 20% more likely to buy an e-book readers.
87% of the e-book readers have annual household income of more than $100,000.
11% of the e-book reader are more likely to own their home in comparison to average US adult.
111% are more likely to have a graduate or post graduate degree than average American.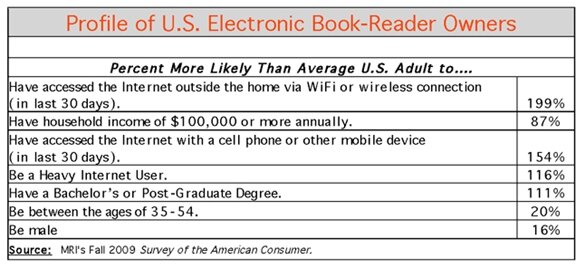 The study should also have concentrated on finding the following:
How many e-book owners actually read books on the device?
How many hours do they spend on reading anything on the reader?
How does owning an e-book reader have affected their reading habit? Have they started to read more or got so intoxicated by the device that actual reading has gone down?
The result will then give the actual figure of e-book readership. The current study has just given a figure of how many people own an e-book reader.
Tags: Adults, Amp, Book Readers, Book Reading, E Book Reader, Electronic Book, Female Counterpart, Females, gadgets, Graduate Degree, Household Income, How Many People, Intelligence, Male Members, Mediamark Research, Paying Attention, Post Graduate, Readership, Reading Devices, Reading Habit, Research Findings, United States