Written by: bikram
When seen as a whole, a piece of marketing communication appears to be one single unit, which means either the communication is a success as a whole or a failure as a unit. This has been the way in which marketers of previous generation though about marketing campaigns, but things have changed, for good, and now no serious marketer will see a marketing communication as one unit, and even success and failure of a marketing communication is not seen as a success of failure of one unit.
This has given rise to the analysis of marketing communication items, now organizations measure each item carefully to see which one works and which one doesn't. This has given an increased control on the various elements of a marketing communication.
MarketingSherpa, one of the leading online marketing research companies has conducted a survey in the expert guidance of Jeff Rice, Senior Research Analyst, to find out the elements of email marketing campaign that marketers analyze. The result of which has been given below.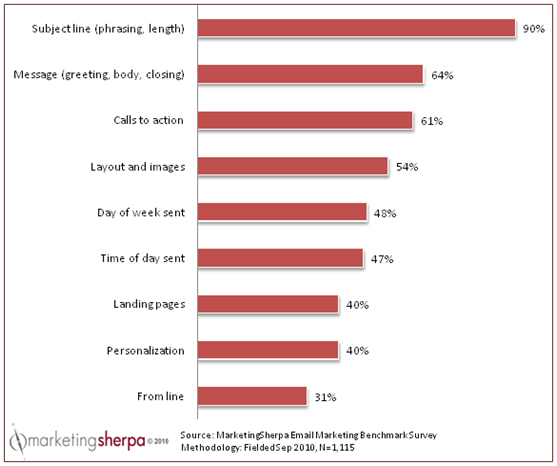 For many marketers, testing subject line, message body, and call to action would intuitively have been among the top 5 email elements to test. This study, which was conducted with a sample size of 1,115 marketers, has proven the gut feeling right. 90% respondents said they test subject line, whereas, 64% said they closely observe the body, whereas, 61% said its call to action that they test.
Which element do you test? Or testing is something you do not believe in? Send in your views using the comment box given below.