Written by: bikram
You must have noticed a significant change that Facebook has made to your profile page. Well, this change is not so significant, if you have not been using the box feature. But for those who was addicted to show their creation to the world using box, Facebook's application tabs has brought a news of doom.
Facebook has replaced box with application tabs, which could be a good or a bad news depending upon from where you are looking at it. My objective is not to prove one group right and another wrong, but it is to suggest you ways to apply this new feature.
3 steps to add application tabs
Step 1: Click on the profile page link and wait for the profile page to appear.
Step 2: Go to the area where wall, info, and photos are written. At the end of this line, you will find a + sign, click on that.
Step 3: In a drop-down menu you will see a series of application avaialble for you. Below that you wil find a box beneath "search application tabs". Enter the keywords of the application tabs you want to use.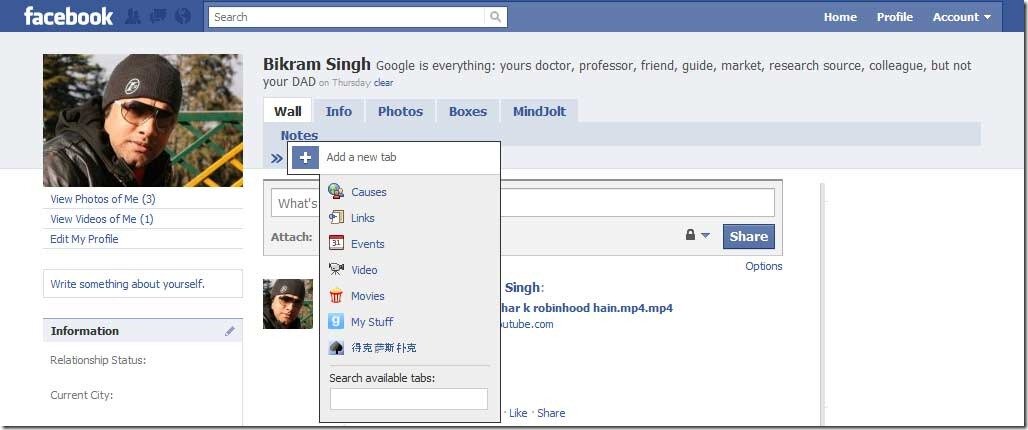 That's it. You have added your favorite application in facebook's application tabs.
This feature will transform Facebook into a mega pplication which will host almost all the inforamtion that you routinly seek from the web. It will become your RSS reader twitter feed agregator, blog reader, etc.
But, at presnet the choice is quite limited, so there is nothing much that you can do with it. Still, there is no harm is testing this feature.
Tags: Application Tab, Bad News, Creation, Drop Down Menu, Facebook, Keywords, New Feature, News Of Doom, Objective, Photos, Pplication, Profile Page Link, Rss Reader, Search Application, Step 1, Step 2, Step 3, Tabs