24 Apr 10 Online Video Ads Reign over TV Ads
In a research conducted by The Nielsen Company and Microsoft it was found that video ads shown during the full episodes of TV shows shown on the Internet have deeper brand impact on the viewers than has TV ads during the same show when relayed on television.
The study found that ads shown in online TV shows has 65% general recall, whereas ads shown on TV during the same show has 46% general recall. In terms of brand recall also, online video performs much better than TV ads.
Brand recall for online video ads was 50% compared to recall for TV ads. Message recall among those who saw the ad while watching the show on the Internet was 50% compared to 28% for TV ads. Likability was also more among people watching ads on the net versus on the TV (26% compared to 14%). (See image below for details).
The research showed that people are more engaged and attentive while watching on the Internet, which assists in brand recall.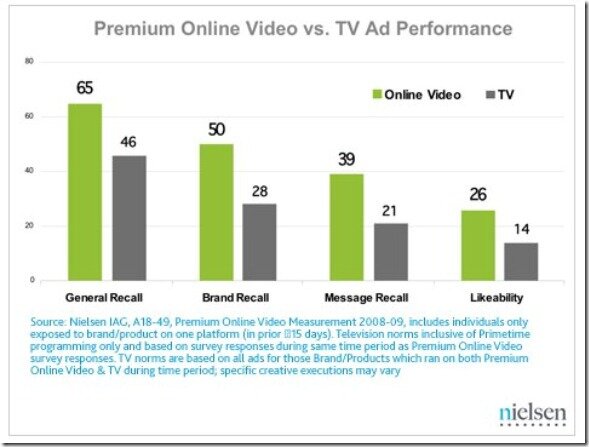 Tags: Better Than Tv, Brand Impact, Full Episodes, Microsoft, Nielsen Company, Online Ads, Online Tv, Online Video, Television, Tv Ads, Tv Shows, Video Ads
21 Apr 10 Writing for Article Directories
Writing is writing is writing is writing. How the hell one article is different from other?
Right?
Wrong!
All types of writing are not cut to be equal. The style, mood, tone, use of words, arrangement of paragraphs, objective, target audience, and even length of different types of articles are different. The article that may work for one medium may not work on another. For example: the article that you post on your website will not be same as the article you posted last night on ezinearticles.com.
Talking of ezinearticles.com let me explain how you should write for article directories.
Writing for article directories
Make it visual
No one likes reading text-heavy articles, not at least in article directories. Make your article visually scannable through the end by adding bullet points, and making the important keywords bold. The things that you have highlighted should give away the central meaning of the article.
Do not make it too long
An article between 250 and 800 words work like a charm in article directories, anything shorter or longer than that gets overlooked by the reader. I will recommend using 350-400 words articles.
Practice brevity
None of the paragraphs should be longer than 3 to 4 lines, and no sentence should be too long. Short sentences and simple words are easy to understand, which help you increase the readership of the article. Do not write complex sentences.
Proper grammar
I am not among those who are strict about the grammar usage, yet I recommend reviewing the article for obvious grammatical and punctuation mistakes. You must review it before submitting to the directory.
Follow the guidelines
Do not take guidelines set by article directories lightly. By doing so, you risk rejection. Read the guidelines carefully and follow them.
Follow these principles and you will get desired results from the articles.
Tags: Brevity, Bullet Points, Complex Sentences, Directories, Grammar Usage, Hell One, Paragraphs, Proper Grammar, Punctuation Mistakes, Readership, Reading Text, Risk Rejection, Target Audience