Written by: bikram
If a recent research report released by comScore is to be believed, this appears to be the case. Or does it indicate something else? A mere shift in the preference, not a complete change of plan?
The research found that, the year on year (YoY) growth of e-mail consumption(unique visitors) in Canada is negative between December 2009 and December 2010. In December 2009, 12 million Canadians used one or another form of e-mail sites, whereas, only 10 million did so in the same month in 2010, which is a 28% decline (see image below to see the e-mail site usage trajectory).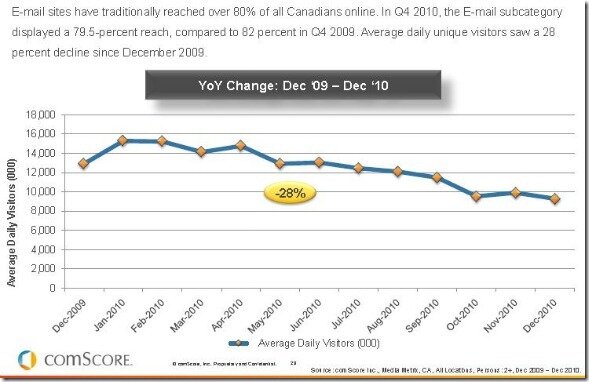 The research has suggested that not only unique e-mail viewership has gone down, but the e-mail engagement has significantly fallen down. The total visits to email websites from Canada has fallen in the fourth quarter of 2010(500 million) from its position in the same quarter in 2009 (650 million). The total visit fell by 18%
The time spent on e-mail sites has also seen a decline. From 5.9 million in the studied period in 2009, it has fallen to 5.2 million in the same period in 2010, which is 11% decline in e-mail minutes. (See the image below for details).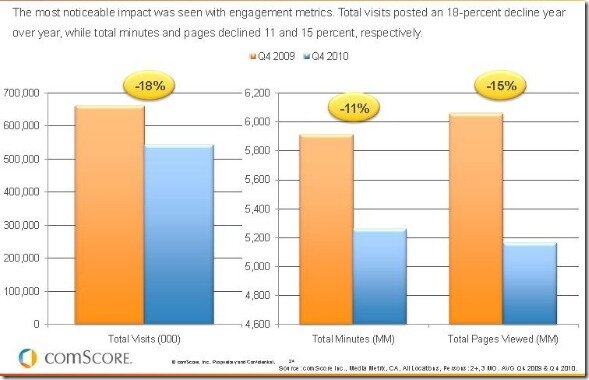 It is hard to draw any conclusion from the above data, unless overall activity of Canadian net users is studied. It might be possible that people have reduced the use of e-mail sites and substituted it with social sites (read Facebook). I must add here that Facebook has also unveiled its own email program (yourmailid@facebook.com). Could it be responsible for the shift?
Not very unlikely! What is your view on this?
Tags: 10 Million, Canada, Canadians, Conclusion, Consumption, Decline, E Mail, Fourth Quarter, Preference, Trajectory, Unique Visitors, Viewership