Written by: bikram
There has been a big debate around the topic related to email newsletter response rate. The proponent of email newsletter claims that they are opened, read, and acted upon. Whereas, the other side says no one opens, read, or act upon after reading an email newsletter.
Thankfully MarketingSherpa, a leading online marketing agency has come up with a survey report that more or less provides an authoritative answer to this question, both for B2C (business to consumer) and B2B (business to business) environment.
The survey titled MarketingSherpa's Email Marketing Benchmark Survey revealed that 25% recipients in B2C segment open e-mail newsletter, 14% of the total recipients click on the link given inside it, and 4% of them act upon them.
The scene does not look much different in B2B setting as well. Newsletter open-rate in B2B setting is 23%, which is mere 2% less than that of B2C segment; newsletter clickthrough –rate is 11%, which is 3% less than that of B2C segment; and 3% of the total recipients in B2b market works upon it, which is mere 1% less than B2C segment. (See image).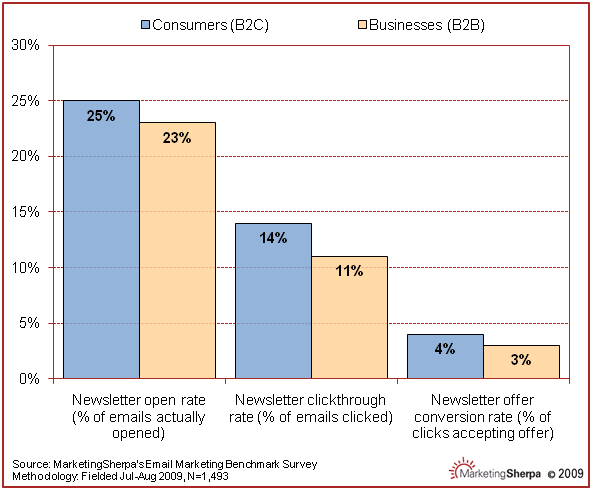 If we compare the conversion rate of email newsletter with that of direct mailers, which is at best 1-2%, then we will see how effective the medium is.
Tags: Authoritative Answer, B2c, Benchmark Survey, Business Environment, Business To Consumer, Conversion Rate, Direct Mailers, E Mail, email marketing, Email Newsletter, Email Response, Email Survey, Mail Newsletter, Marketing Agency, Marketing Survey, Open Mail, Proponent, Response Rate, Segment, Survey Report