This was the question posed to 1400 marketers by a leading online marketing research agency MarketingSherpa in its "Email Marketing Benchmark Survey". Overwhelming number of marketers said the effectiveness of the medium is increasing a lot, whereas, a tiny fraction also said that it has significantly fallen down.
The study concluded that the marketers at large organization who have access to huge chunk of quantifiable data said the effectiveness is growing, whereas, their counterparts in smaller organization with less access to quantifiable research data said that e-mail marketing is no more effective.
Not only that the marketing agencies are not very positive about the effectiveness of email marketing campaign. Marketers themselves, but, shared different opinion about the effectiveness of an email campaign. See image for the study report.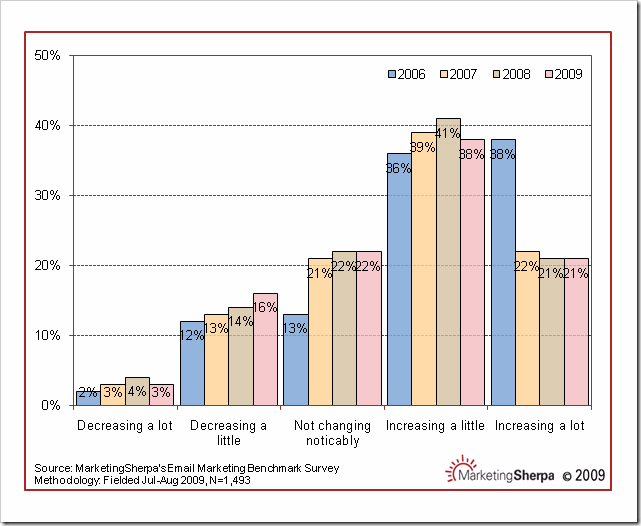 Tags: Benchmark Survey, Chunk, Counterparts, e-mail marketing, Effectiveness Of Email Marketing, Email Campaign, Large Organization, Lot, Marketers, Marketing Agencies, Marketing Agency, Marketing Campaign, Marketing Research, Marketing Survey, Marketingsherpa, Online Marketing, Overwhelming Number, Quantifiable Data, Study Concluded That, Tiny Fraction