Social media is getting hotter, as almost everyone who accesses the Internet has his or her presence in one or more social media sites. Some of them are active participant, while others are hooked to it, but seldom anyone is immune to it.
But, which social media is the marketers' favorite when it comes to distributing marketing dollars?
In a study conducted by King Fish Media, Hubspot and Junta 42, it was found that LinkedIn is at the top of the chart, followed by Twitter and Facebook.
87% of the survey participant said they include LinkedIn in their social media strategy, and 12% said they are planning to add it to the equation. 84% marketers consider twitter when framing a marketing budget, while another 16% said they will add soon. As long as Facebook is concerned, only 78% use it, while 22% said they are planning to use this social media marketing tool.
Almost all the big social media websites featured in the list, but what was missing noticeably was MySpace. Well, it was not missing entirely, but seeing the success it once enjoyed, the current status is akin to disappearing for MySpace. A mere 9% people said they use MySpace, and same percentage of people said they will use it in future (See image for the complete survey data).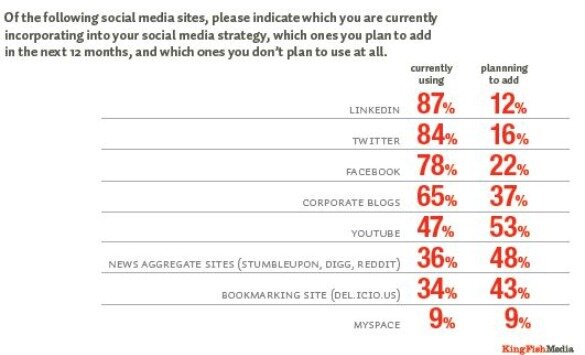 Tags: Accesses, Current Status, Facebook, Hubspot, Junta, King Fish, Linkedin, Marketers, Marketing Budget, Marketing List, Marketing Social, Marketing Tool, Media Marketing, Media Strategy, People, Presence, Social Marketing, Survey Data, Survey Participant, Twitter