Written by: bikram
Like PPC (Pay per Click), the perception about Social Media is also fast changing. Exceeding number of organizations are taking social media in their tight embrace, even at the time of the budget when anything that incur any cost gets frowned upon.
2,300 marketers, who were interviewed by MarketingSherpa for its Social Media Marketing Benchmark Report, testified this.
7% of the marketers said that social media is producing measurable results, so they will increase the budget. 49% of the total respondents said that their organizations were more than keen to increase their social media budget, for they saw it as a promising tactics.
27% marketers said that the results of social media cannot be seen now, so they do not want to stretch the budget too far for that, and will keep the budget as it is, whereas, 17% sees no value in the investment. They feel social media is free, so there is no need to spend anything. See chart below for a visual representation of the survey result.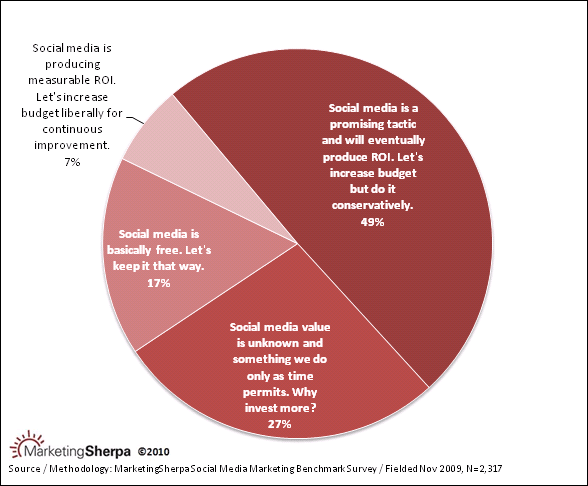 Tags: Benchmark Report, Budget Time, Embrace, Marketers, Marketing Report, Marketingsherpa, Measurable Results, Media Marketing, Pay Per Click, Perception, Ppc, Respondents, Social Marketing, Social Media, Survey Result, Tight, Value Investment, Visual Representation