Written by: bikram
Experts come on TV, talk on radio, write in the newspaper, and even blog about it, but not everyone is willing to buy the story (or fact) they are selling using all the media they can. For many American the worst is not over yet. They feel the economic recession is not over yet, as revealed by an opinion poll conducted by Harris Poll.
As much as 58% Americans do not believe that the economy is going to improve in coming year — 33% thinks it will stay all the same, but 25% fears the worse has yet to come. 10% of the respondents said they are not sure of the state of the economic affair in the United States. And only 32% showed confidence in the recovery. (See picture)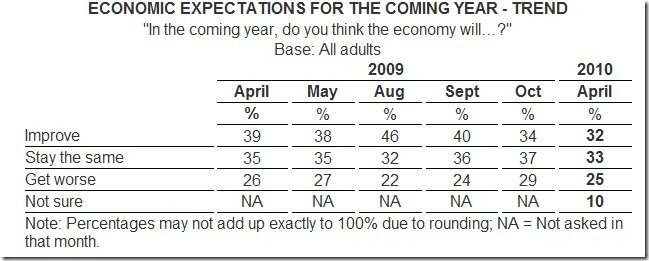 If we alter the timeline a bit then the figure is even more disheartening. Almost 80% (combined) of Americans believe the economy will not improve in the next six months — 50% believe the economy will not change in the next 6 months, whereas, 29% fear the worse may happen.
It is on the administration and regulator to falsify the belief of more than 50% of Americans. They need to work hard to prove the skeptic wrong.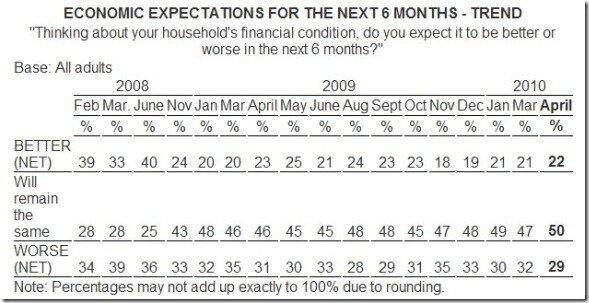 In which group I fall?
Well, I am an optimist.
Tags: Belief, blog, Confidence, Economic Recession, Economy, Fear, Fears, Harris Poll, Mindset, Opinion Poll, Optimist, Radio, Respondents, Six Months, Timeline, Tv Talk, United States