Everyone is talking about mobile these days — from marketers to coders to users to the shopkeeper round the corner, everyone is talking about mobile. This made me wonder if it indeed is a soaring market or just a fad like gazillion others that preceded this, and I decided to look for some quantifiable data to see why a marketer should consider including mobiles in the marketing mix.
That brought me to a Gadget Ownership, 2010 study conducted by the Pew Research Center's Internet & American Life Project in this month in the United States. The result tallied with the common belief on the matter.
The study suggested that 85% Americans own a cell phone, and only 59% and 52% owns desktop computers and laptop computers, respectively. Another 4% is said to have access to tablet computers. (See image below).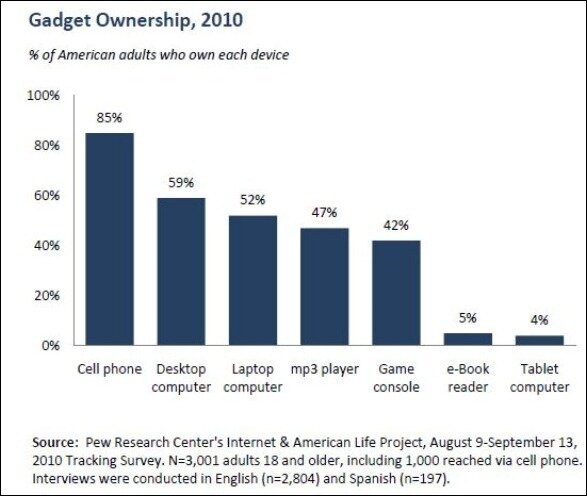 The depth of cell phone penetration has provided a never-before for marketers to reach individual customers. But do not assume that the old rules of the game will be applicable. To become successful here, you may need to rethink the rules of engagement. You should, therefore, make a move fast, before everyone else does.
Tags: Amp, Belief, Cell Phone, Desktop Computers, Fad, Gadget, Laptop Computers, Marketer, Marketers, Marketing Channel, Marketing Mix, Mobile Marketing, Penetration, Pew Research Center, Quantifiable Data, Rules Of Engagement, Rules Of The Game, Shopkeeper, Study Suggested That, Tablet Computers
Getting a job, even in a down market, is not difficult provided you know the trick of the trade. You know what to display in front of an interviewer. And you can only do that if you know what is that an interview wants from you.
This is where this blog post figures in. The 3Cs (creative, commitment, and confidence) that we are going to discuss in this article will help you convey the message an interviewer wants to hear from an interviewee.
3 Cs of job interview
Be creative
You should be creative in your approach. Do not just give a rotten answer to each of the question asked. It sounds boring, it looks mechanical, and no one wants a non-creative, mechanical person because they already have more powerful machines to do the job.
Do not deliver a premeditated answer. Take a chance, offer something innovative. This will impress your interviewer.
Commitment
The second C of job interview is commitment. Convey your interviewer your desire to stay with his company as long as things does not fall apart. Tell him that you are not the "job hopper" kind and believe in staying with a company and delivering result. Your interviewer needs to know whether you will go out of your way to solve a customer's problem or not. Tell them you will do it. This will put the interviewer at ease, and he will lower his guard, which will provide you entry into his organization.
Confidence
You do not have anything, if you do not have confidence to move ahead, despite all the odds. No product is perfect. Your interviewer, who is also your prospective employer, knows this, and you should also know this. And if you have the guts to sell the product, despite its several short coming then are in the team.
Show your employer your level of confidence and belief in what you do. Do not shy away from this.
This brings us to the end of 3Cs of a job interview. In the next article will see what the 3 Es of a job interview are, and how each one of them will help you crack a job interview.
Tags: 3cs, Ahead, Belief, Confidence, Crack, Creative, Desire, Dream Job, Getting A Job, Guts, Hopper, Interviewee, Interviewer, Job Interview, Job Market, Nail Down, Odds, Prospective Employer, Rotten, Trick Of The Trade
Experts come on TV, talk on radio, write in the newspaper, and even blog about it, but not everyone is willing to buy the story (or fact) they are selling using all the media they can. For many American the worst is not over yet. They feel the economic recession is not over yet, as revealed by an opinion poll conducted by Harris Poll.
As much as 58% Americans do not believe that the economy is going to improve in coming year — 33% thinks it will stay all the same, but 25% fears the worse has yet to come. 10% of the respondents said they are not sure of the state of the economic affair in the United States. And only 32% showed confidence in the recovery. (See picture)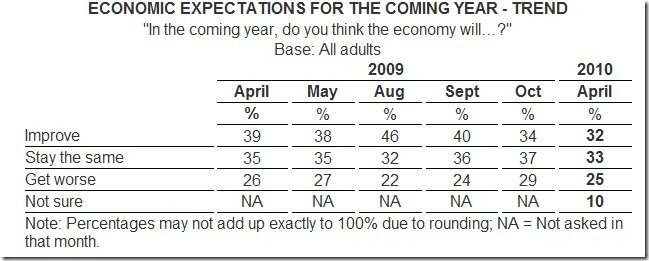 If we alter the timeline a bit then the figure is even more disheartening. Almost 80% (combined) of Americans believe the economy will not improve in the next six months — 50% believe the economy will not change in the next 6 months, whereas, 29% fear the worse may happen.
It is on the administration and regulator to falsify the belief of more than 50% of Americans. They need to work hard to prove the skeptic wrong.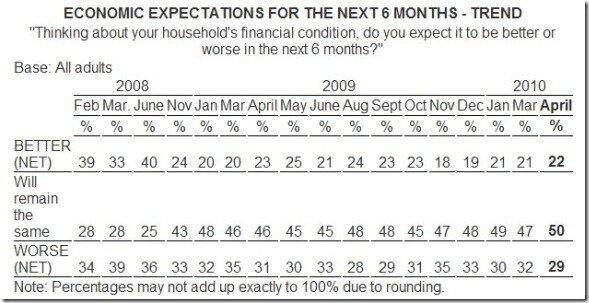 In which group I fall?
Well, I am an optimist.
Tags: Belief, blog, Confidence, Economic Recession, Economy, Fear, Fears, Harris Poll, Mindset, Opinion Poll, Optimist, Radio, Respondents, Six Months, Timeline, Tv Talk, United States