Has the recession aftected the way family unit is organized in the Untited States? Is it the recession that forced 1 in every 10 kids live with his or her grandparent (s)? An analysis of the U.S. Census Bureau data done by Pew Research Center suggest that it is so.
the U.S. Census Bureau data indicats that there has been a sharp rise in number of kids staying with their grandparent or grandparents between 2007 and 2008. In 2000, total number of American children living with their grandparnets was 2.5 million, wich rose to 2.9 million in 2008. ThIere has been a sharp rise of 6% in this figure between 2007 and 2008.
It has been found that 41% of children (4 out of every 10) who live with their grandparents are also raised by the grandparents only. In the analyzed period (between 2000 and 2008), the number of grandparents functioning as a prinary caregiver to the American kids has also increased to 2.8 million in 2008 from 2.4 million in 2004, which is an 8% increase. 5% of which has increased between 2007 and 2008. It seems recession definetly has affected the way family unit organize itself in the US.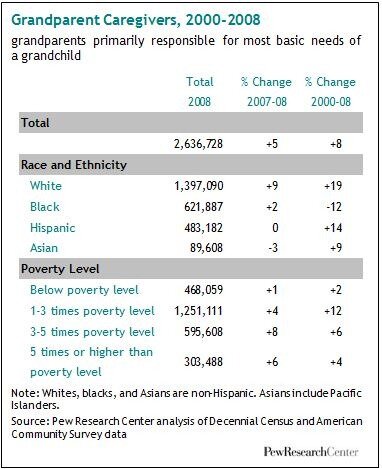 Tags: 5 Million, American Kids, Caregiver, Census Bureau, Census Bureau Data, Definetly, Family Structure, Grandparents, Organize, recession, Sharp, U S Census, U S Census Bureau, Untited States, Wich