Written by: bikram
Measuring the effectiveness of a marketing campaign is as important, if not more, as is the creation of the campaign, and same yardstick we use to measure social media marketing campaigns as well. But the question is how one measures social media marketing effectiveness? What goals are relevant for social media campaign? To answer questions like these, MarketingSherpa, a leading online marketing research agency, has done a survey in February 2011 with a sample size of more than 3, 000 people, result of which is given below.
The survey suggested that 85% marketers consider social media marketing fruitful if they successfully refer visitors to their websites, whereas, 56% think increased reach (reach of fan, followers, and subscribers) is the objective worth considering. At number three was the effect of the campaign on search engine ranking.
According to the marketers, the least important or the least expressive goal is the customer service/support savings. See image for details.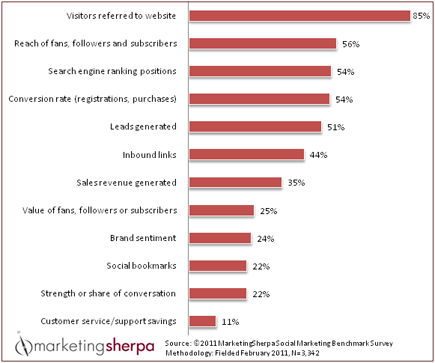 What do you think, which one is the most important goal from the ones listed above?
Tags: 000 People, Customer Service Support, Followers, Gauge, Marketers, Marketing Agency, Marketing Campaign, Marketing Campaigns, Marketing Effectiveness, Marketing Research, Marketingsherpa, Measures, Media Campaign, Media Marketing, Online Marketing, Search Engine Ranking, Social Marketing, Subscribers, Survey, Yardstick