31 Oct 10 B2B Marketing Challenge – A Comparative Study
A lot has changed between 2009 and 2010. Some of the changes are good and some of are not, which have made the life of B2B marketers slightly more difficult. In a study conducted by MarketingSherpa to unearth the challenges B2B marketers face in 2010, it found that despite all technological developments marketing has become tougher for a B2B marketer.
In 2009, only 69% of B2B marketers said that generating high quality lead was the toughest challenge for them, but in 2010 78% marketers said so. Similarly, generating high volume of leads was big challenge for 35% of marketers in 2009, and it threatens 44% marketers in 2010.
In the study it was found that 2010 has been more challenging year for B2B marketers on every front, with an exception. In 2009, 37% marketers said that generating perceived value in "cutting edge" product benefits is a challenge. It remained unchanged in 2010 as well. Rest posed more threat. See image for example.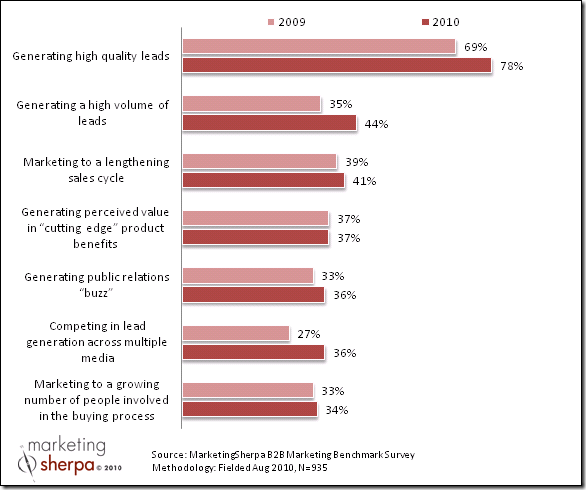 Tags: B2b Marketers, B2b Marketing, Challenges, Comparative Study, Cutting Edge, Edge Product, Face, High Quality, High Volume, Leads, Lot, Marketer, Marketing Study, Marketingsherpa, Technological Developments
29 Oct 10 How to Write a Romantic Novel?
A romantic novel is the best gift one can ever dream of, and it delights not only teens but even a man or woman of 80. A good romantic novel always comes as a gasp of fresh air, with intoxicating charm and vivid imagination. One just can't resist it. But even if romance comes to you naturally, penning it down isn't so easy. Here are some tips about writing a romance studded novel.
Characterization
It's the romantic characters of a novel that we live with, breathe in, fantasize and admire. Thus characterization is very important part of romantic novel writing. Infuse life into your characters, make them real, throbbing with energy. Even if the characters are like 'dream come true', make them appear real and close to life. Build them carefully, pouring your heart into it. Their thinking, nature, appearance, talks – everything has to reflect in your story. Make characters so real and romantic, that your readers fall in love with them.
Get inspired from reality
Real people should be your inspiration. If your characters belong to countryside, go and interact with the people there. It will help you in weaving characters, close to reality. If your character is a complete romantic person, talk to a romantic person in reality. Spend time together, watch him or her, and find out his or her story. The more you mix up with people in reality, better your characters shape up.
Make a perfect ambience
Get into detail of situations. If your hero falls in love with a coffee shop waitress, create such situation. Create an ideal coffee shop in your novel. Describe everything – from aroma of coffee to the story of corner table – always occupied by couples. Since romance will bloom in the setting, make it appear real. A love story can bloom even in a cemetery. Love stories need not always sound like a fairy tale.
Build climax slowly
Make your readers wait patiently for the right moment. Don't give them the scoop of ice cream so easily. Let it come slowly, teasing the reader bit by bit. Build drama, conflict, climax, suspense. Don't let the steamy scene come so easily. Don't let the story rush. Remember, true love doesn't unveil overnight. Let it bloom slowly yet steadily.
Finish with an impact behind
Sign off your story with grace. Finish with a deep impact behind. Make ending so impactful that it stays in your readers' heart forever, burning with passion. Good novel readers swear by and give example of that love, everywhere.
Go for it!
Tags: Aroma, Characterization, Climax, Coffee Shop, Countryside, Couples, Fairy Tale, Fresh Air, Inspiration, Love Stories, Love Story, Novel Writing, Real People, Right Moment, Romance Novel, Romantic Novel, Romantic Person, Scoop, Vivid Imagination, Waitress
Who doesn't wish to be organized in life? Many of us take pledges of becoming organized, everyday. But only few actually manage to become organized. But if one gets into the habit of staying organized, life becomes much smoother and easier. Who wants to keep searching for a pen in the house when needed, and finding it after 3 days from the cupboard? It's not only inconvenient but also very frustrating. Whereas, by staying little bit organized, one can not only stay at ease, but also emotionally balanced and grounded. They are capable of managing time better, stay in a cheerful de-stressed mood forever. They don't feel insecure or imbalanced. An organized place looks warm, clean, relaxing and happy.
Here are some tips about getting organized.
Start connecting things
Start making mental connections. Organizing things is a mental process. Start treating similar objects as a group. As for example, suppose you are shifting to a new house. While packing your stuff keep kitchen equipments together in a box. All glass items which are breakable could be in one box. Put all woolen clothes in a box. This way, you are actually memorizing things which are similar in nature or by any other reference. You could also group things of same material or color or size. Start grouping and connecting things in your mind.
Divide things
Just similar to the process of assembling or connecting, you can also divide things into separate entities. If you have a huge database of names, you could divide them alphabetically into different sections. And then put them into different folders, with alphabets of names written on top. Too many things together need segregation into many parts. It gets easier to remember.
Keep things in their own place
Don't keep shifting place of things, it will confuse you and make you forget when needed. So make sure a book is in the book shelf only, money is in the wallet. If you use a thing, place it back where it was initially. If a thing is in its actual position for long, it becomes memorized and habituated to.
Re-sort things often
Even if you are super organized, with time things get scattered, mixed and cluttered. Such situation calls for re-sorting and re-arrangement. New clothes get mixed with the old ones, gadgets pile up, shoes get stored one on the other and such situations calls for re-arrangement and re-sorting.
Get rid of stuffs
At times one needs to get rid of not so important or obsolete old stuffs, to make space for the new upcoming ones. If something has been part of your life since long but has no such meaning in present term, get rid of it. You need not be sentimental about it.
Tags: Alphabets, Book Shelf, Cupboard, Folders, Habit, Kitchen Equipments, Little Bit, Many Things, Mental Connections, Money, New House, Organized Life, Pledges, Segregation, Separate Entities, Wallet, Woolen Clothes