One of the biggest challenges of a work from home professional is to find time to work, particularly when guests are there or there is a holiday. Meeting deadlines in such cases become a real challenge, but what is needed to be done should be done. There is no way out of it, unless you want to lose the client and his business forever.
In the times when your guests are at your home, you may need to exert yourself more, as you will work doubly — once to spend time with people you love and once to delight your customers with your impeccable work. We all face this kind of problem, and fortunately there is a way out of it. When I say a way out of it, I do not mean an easy way. Let me fist tell you about the ways out of it then you can decide to take it or leave it (this phrase sounds so filmy, isn't it? Like the Godfather giving an unpleasant deal).
Work in the night
Once you have had all the laughs of the world, it is time to burn mid-night oil. This is kind of difficult, but you can manage it provided you do not end-up dining at mid-night. Stay awake for one or two hours in the night to finish the work.
Work Early morning
Waking up one hour early than usual could be tried. You can use this time to finish the works in due time. Early morning could be good, as your guests will not be waking so early, and nor will your kids and spouse.
Apart from these obvious times, you can also utilize the unplanned free time to complete the assignment. This way you will able to meet deadlines without sacrificing much on the fun your family and your guests are having. As I see, guests are not evil. They give you opportunity to break away from the monotonous life. Why not use it to the fullest? And to maintain pace of the work, do as suggested above.
Tags: Break, Challenges, Deal Work, Due Time, Face, Fist, Free Time, Fun, Godfather, Home Professional, Laughs, Love, Opportunity, Pace, Phrase
31 Oct 10 B2B Marketing Challenge – A Comparative Study
A lot has changed between 2009 and 2010. Some of the changes are good and some of are not, which have made the life of B2B marketers slightly more difficult. In a study conducted by MarketingSherpa to unearth the challenges B2B marketers face in 2010, it found that despite all technological developments marketing has become tougher for a B2B marketer.
In 2009, only 69% of B2B marketers said that generating high quality lead was the toughest challenge for them, but in 2010 78% marketers said so. Similarly, generating high volume of leads was big challenge for 35% of marketers in 2009, and it threatens 44% marketers in 2010.
In the study it was found that 2010 has been more challenging year for B2B marketers on every front, with an exception. In 2009, 37% marketers said that generating perceived value in "cutting edge" product benefits is a challenge. It remained unchanged in 2010 as well. Rest posed more threat. See image for example.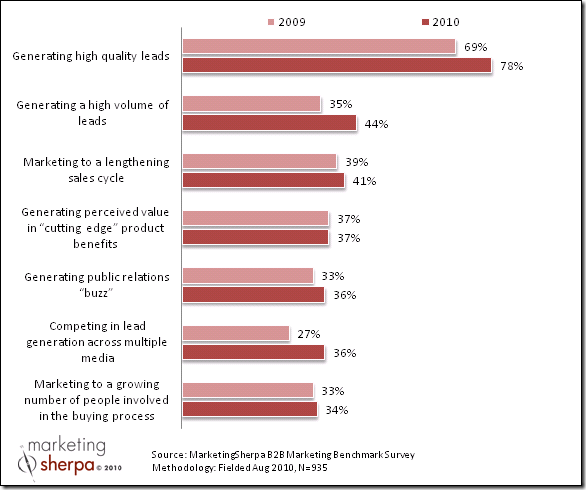 Tags: B2b Marketers, B2b Marketing, Challenges, Comparative Study, Cutting Edge, Edge Product, Face, High Quality, High Volume, Leads, Lot, Marketer, Marketing Study, Marketingsherpa, Technological Developments
My love for short and intriguing answer is pushing me to say "read anything that you can lay your hand on to", but, my slightly more normal self asks my crazy mind to explain. So, here goes the explanation.
A freelance writer should read anything that succeeds in catching, holding, and retaining his attention. Because the more diverse your reading habit will be the better equipped you will be to handle the challenges posed by freelance writing. You should care less about following a genre through head to tail. Well, doing it will be make you an expert and may be better accomplished as a writer of that particular genre, but expertise in one and dumbness in rest of the subjects is not what you should eye for. You need to have sufficient control on as many genres as possible.
What did you say— you will be master of one and will research for the rest?
I know many freelancers doing that, and quite a few have attained some degrees of success while treading down this road. But more often than not an article written by a freelance writer who has no prior knowledge or intuitive understanding of the subject matter lacks depth. To add depth and texture to your writing, you need to learn various things.
Freelance writing poses unique challenge that is seldom faced by fiction or non-fiction writers. Therefore, the solution used by freelance writers should also be different.
Read as much as you can, and from as many genres as you feel comfortable in!
Learning is a complex process, and acquiring knowledge is even more complex.  One never knows which piece of text or byte of media triggers what. Sometimes the knowledge gained is a direct result of the things you are reading, while at other times, it is gained because the things you are reading have activated some unknown part of the brain which has triggered something else then something else, and the end result of all this could be the new understanding you have developed.
So, to help your brain form new pattern and new understanding, you need to provide it as many types of fodders as possible.
Tags: Acquiring Knowledge, Byte, Challenges, Crazy Mind, Dumbness, End Result, Fiction Writers, Freelance Writer, Freelance Writers, Freelance Writing, Freelancers, Genre, Genres, Love, Non Fiction, Part Of The Brain, Prior Knowledge, Reading Habit, Subject Matter, Texture