Written by: bikram
Email marketing delivers. But only when it is crafted patiently embedding all the elements that are considered "best practices" by experts in the field. But what do experts think? Like every lesser email marketer, I have also been wondering about this question. It is when I found myself face-to-face with a study on email message personalization conducted by MarketingSherpa.
The result of this study may not answer all the pressing email marketing questions, but it will help us go multiple yards closer to creating the ultimate e-mail marketing message. The study was conducted by taking a sample size of more than 1100 email marketers. Let's go direct to the results and see what you should do to make your email messages convert better.
81% of the respondents said that they collect and use personal name of the subscribers, whereas another 17% said that they do collect subscribers' names but do not use it. Personalizing mail by greeting subscribers by their first name appears to be the most important tactics.
Expert email marketers also use data like lead source, company name, subscribers' role in the company, etc., to make the e-mail message more relevant. See image below for the complete data.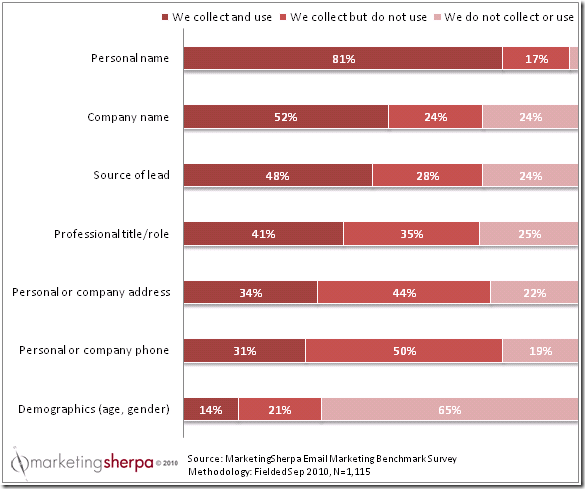 So what are you planning to include? Let me know what tactics you use for personalization of email messages? I am waiting eagerly to hear from you.
Tags: Best Practices, e-mail marketing, Elements, email marketing, Email Messages, Expert Email, Face, Mail Message, Marketer, Marketers, Marketing Study, Personal Name, Respondents, Source Company, Subscribers