The worst seems to be over for financial services in the United States, as people's perception has started to sway in favor of financial services providing companies, according to the Harris Interactive 2010 EquiTrend study.
The US consumers' perception of the financial services providers was quite low in 2009, which seem to have got back to its 2008 state in April. Even AIG, whose reputation touch the bottom in 2009 during the financial crisis, has also gone up in 2010.
Visa got the highest brand equity score of 65.76, followed by MasterCard whose brand equity score is 60.66. The Hartford with the score 53.40 and Fidelity Investments Financial Services with 53.29 score on brand equity make the bottom two of the report that studies top 10 highest ranked financial services company. See image for detail.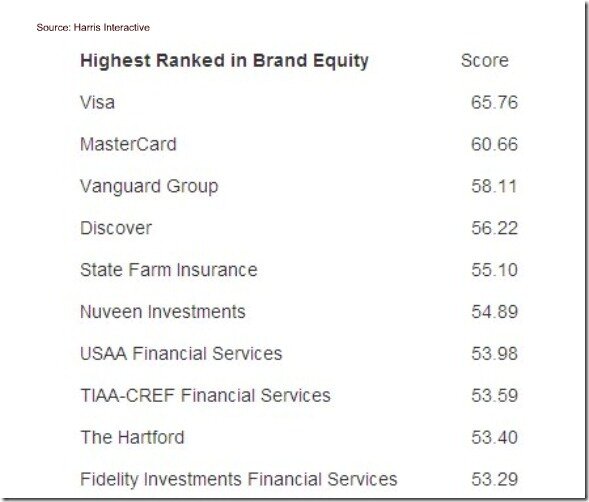 Not only the perception (brand equity) is on the way up, but the trust is also going up on the scale. Although it has not touched even 2008 level, the hope of its speedy recovery can be felt in the report released by Harris Interactive.
In the trust ranking, TIAA-CREF Financial Services ranked at number one with a trust score of 6.64, and at number two is Vanguard Group with a trust score of 6.55. Visa is at number 3 with the total score of 6.6. The Hartford which was at number 9th position in terms of brand equity has fared relatively well on the trust quotient. It is on number 5 with a trust score of 6.39. See image for detail.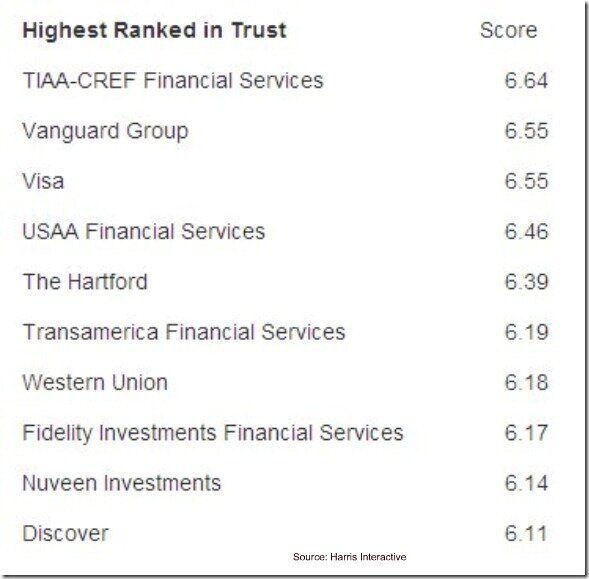 Tags: Aig, Brand Equity, Consumers, Equitrend, Fidelity Financial, Fidelity Investments, Financial Crisis, Financial Services Company, Financial Services Providers, Harris Interactive, Hartford, Number 3, Perception, Quotient, Reputation, Score, Speedy Recovery, Tiaa Cref, Vanguard Group, Visa
24 Nov 09 Will Smith Beats Brad Pitt, Tiger Woods, Angelina Jolie and Oprah Winfrey in Brand-Endorsement Equity
Will Smith is number one in terms of match between celebrity and brand equity as found by Millward Brown, one of the leading research companies, in a research conducted to find Cebra (Celebrity + Brand) score. The sample size taken for the research was 2,000, which comprises of the U.S adults between 18 and 64. Brad Pitt is at second position, whereas, his love-interest, Angelina Jolie is at number 10. Tiger Woods is at number 3 followed by Oprah Winfrey who is at number 4.
Cebra score attempts to measure the power of celebrity and brands. For this it has integrated the following factors:
Familiarity (How much consumers know about a celebrity and brand)
Affinity (how strongly do the consumer like or dislike a celebrity and a brand)
Buzz (How much buzz quotient a celebrity and a brand has)
The Cebra score is then combined with a personality matching matrix to identify which celebrity ad brand can partner to offer the highest potential to influence the market place.
Celebrities with Highest Cebra Score
Will Smith
Brad Pitt
Tiger Woods
Oprah Winfrey
Denzel Washington
Clint Eastwood
Ellen DeGeneres
Morgan Freeman
Johnny Depp
Angelina Jolie
Tags: Affinity, Angelina Jolie, Brad Pitt, Brand Buzz, Brand Equity, Clint Eastwood, Denzel Washington, Ellen Degeneres, Endorsement, Familiarity, Johnny Depp, Leading Research, Love Interest, Match, Morgan Freeman, Number 3, Oprah Winfrey, Quotient, Tiger Woods, Will Smith