Everyone is talking about mobile these days — from marketers to coders to users to the shopkeeper round the corner, everyone is talking about mobile. This made me wonder if it indeed is a soaring market or just a fad like gazillion others that preceded this, and I decided to look for some quantifiable data to see why a marketer should consider including mobiles in the marketing mix.
That brought me to a Gadget Ownership, 2010 study conducted by the Pew Research Center's Internet & American Life Project in this month in the United States. The result tallied with the common belief on the matter.
The study suggested that 85% Americans own a cell phone, and only 59% and 52% owns desktop computers and laptop computers, respectively. Another 4% is said to have access to tablet computers. (See image below).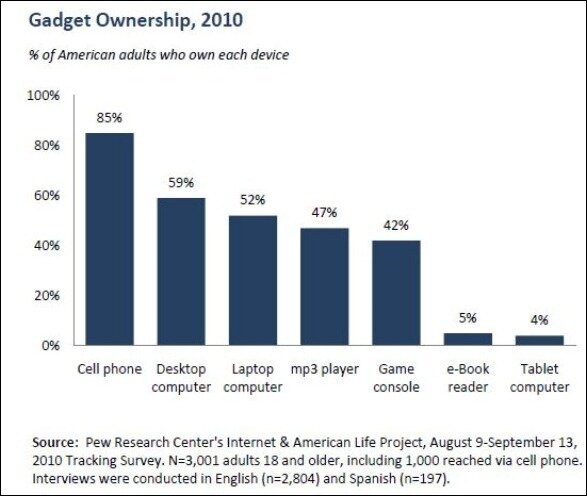 The depth of cell phone penetration has provided a never-before for marketers to reach individual customers. But do not assume that the old rules of the game will be applicable. To become successful here, you may need to rethink the rules of engagement. You should, therefore, make a move fast, before everyone else does.
Tags: Amp, Belief, Cell Phone, Desktop Computers, Fad, Gadget, Laptop Computers, Marketer, Marketers, Marketing Channel, Marketing Mix, Mobile Marketing, Penetration, Pew Research Center, Quantifiable Data, Rules Of Engagement, Rules Of The Game, Shopkeeper, Study Suggested That, Tablet Computers