Everyone is talking about mobile these days — from marketers to coders to users to the shopkeeper round the corner, everyone is talking about mobile. This made me wonder if it indeed is a soaring market or just a fad like gazillion others that preceded this, and I decided to look for some quantifiable data to see why a marketer should consider including mobiles in the marketing mix.
That brought me to a Gadget Ownership, 2010 study conducted by the Pew Research Center's Internet & American Life Project in this month in the United States. The result tallied with the common belief on the matter.
The study suggested that 85% Americans own a cell phone, and only 59% and 52% owns desktop computers and laptop computers, respectively. Another 4% is said to have access to tablet computers. (See image below).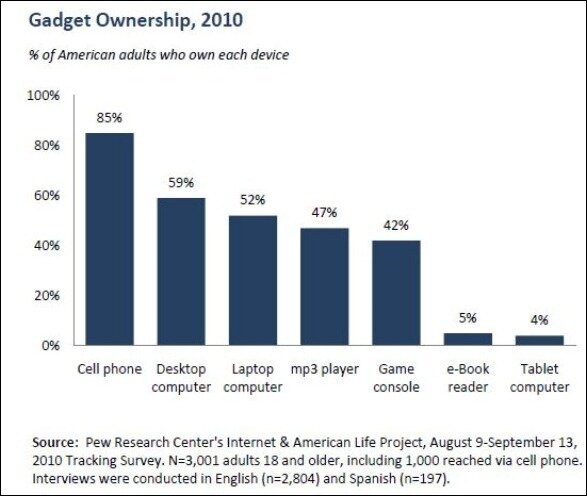 The depth of cell phone penetration has provided a never-before for marketers to reach individual customers. But do not assume that the old rules of the game will be applicable. To become successful here, you may need to rethink the rules of engagement. You should, therefore, make a move fast, before everyone else does.
Tags: Amp, Belief, Cell Phone, Desktop Computers, Fad, Gadget, Laptop Computers, Marketer, Marketers, Marketing Channel, Marketing Mix, Mobile Marketing, Penetration, Pew Research Center, Quantifiable Data, Rules Of Engagement, Rules Of The Game, Shopkeeper, Study Suggested That, Tablet Computers
24 Apr 10 US Consumers Like Wireless Providers' Facebook Fan Pages
In a study conducted by Compete.com, it was found that more and more US consumers are using Facebook fan pages of the wireless providers to connect with them.
Previous year, the four biggest wireless service providers in the United States — Verizon Wireless, AT&T, T-Mobile, and — Sprint have rolled out their Facebook fan pages. The data released by Compete suggests that many US consumers are using these fan pages to stay in touch with their preferred Wireless service provider.
Facebook fan page work as company profile page where companies publish details about themselves, and also use it to network with the users. These profiles are seeing increase in the usage, though in absolute term, time spent is not too high.
In February 2010, users have spent typically 95 seconds in each session on Sprint's fan page, but ever since it is on the rise and same hold true for other major wireless carriers. Users are using these pages to keep themselves abreast with the recent development, and the growth trend suggests that people love to connect with their wireless carriers. See image for detail.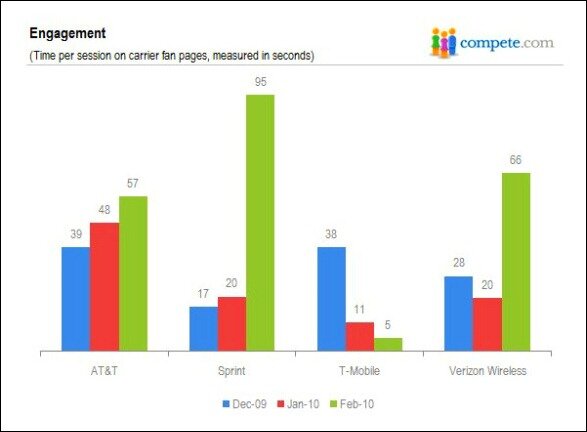 Tags: Amp, Company Profile, Consumers, Fan Page, Fan Pages, Growth Trend, Image, Previous Year, Profiles, Sprint, T Mobile, Term Time, United States, United Wireless, Verizon, Verizon Wireless, Wireless Carriers, Wireless Providers, Wireless Service Provider, Wireless Service Providers
Writing for others may get you some money, but you cannot build a fortune from it. Yes, there are some freelance writers who charge a killing, but unfortunately most of us are not that fortunate. Then what should I do? Should you leave freelance writing?
Well, the answer to the above question is big NO with big N and Big O. Freelance writing gives you a stable source of income—I know they told you it is not stable—leaving it will not be a good idea. You should rather continue working for your clients.
Then how you can increase your income?

I wish, you would have waited before asking this question. Anyway, I was saying you should continue working for your clients, but you should also put a project or two in place. Start something on your own.
Can I do it?

Of course, you can do it. You have been doing it for your clients, why cannot you do it for yourself? I understand PPC, SEO, marketing, and everything else is very, very important for web, but none of them (or all of them even if combined together) is as important as the content. And this is what you have been doing for your clients—creating great content. So why not for yourself?
Find a niche that you would like to work into and roll out your own project. You can create a niche website, an information product, or if you are experienced enough you can become consultant or give coaching. There are many avenues that you can explore.
But when to do it?

Yeah, I know this is a big IF & BUT questions (though without if). You can do it on weekends. Start working on weekends if you do not already do, and work on your projects on weekends. I know this is a lot of trouble, but trouble is what you have to take if you want to make it big. They lied to you when they said that it was going to be no sweat.
Creating your own product or starting your own project is a hard work. That is why not many people are doing so, but the reward is enormous. There is not just light at the end of the tunnel, but there is a huge spotlight and a big stage waiting for you at the end of the tunnel.
Start working on weekends, and make it big. Best of luck for your journey! Do write in how it was.
Tags: Amp, Asking This Question, Avenues, Fortune, Freelance Work, Freelance Writers, Freelance Writing, Information Product, Marketing, Money, Niche Website, Stable Source, Start Something, Sweat