25 Apr 10 The Wait game – Those Who Wait Purchase More
A whitepaper published by a leading Internet security technology provider McAfee revealed that cautious online shoppers take more time to purchase a product, but they are more likely to convert into sales.
The study titled "Digital Window Shopping: The Long Journey to Buy" found that on average people take 33 hours and 54 minutes in making a purchase after their first visit to a website. In the last study conducted by McAfee, the average delay between the first visit and the final purchase was 34 hours and 16 minutes.
In total, around 54% of combined online shoppers wait for anything 12 hours and 2 days before making a purchase, whereas, 12% shoppers wait for less than 12 hours, and 33% wait for more than 2 days before making a final purchase after the first visit.
In the report McAfee has used the term "cautious shopper" for the group that wait for more than one day before making a purchase. 64% of combined online shoppers fall into this category. See image for detail of the report.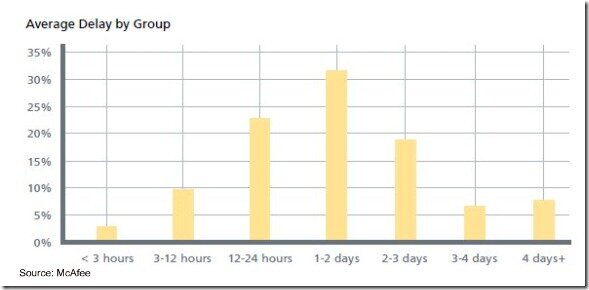 Tags: Game, Internet Security Technology, Long Journey, Mcafee, Online Shoppers, Technology Provider, Whitepaper
Let us start with putting things straight. The Internet is the ecosystem created by different kinds of websites, which in themselves are media vehicles, and content is the fuel on which the medium and its various types of vehicles run. The efficiency of the media in general and vehicles in particular depends upon the kind of fuel it usage. Therefore, one should pay much attention when writing copy for your website, and for that you need to know how to write better website copy. This article will help you learn that, just follow through the end.
Better Website Copy Writing Tips
Your copy should not be visually heavy. Make the copy easy to scan. You can do that by dividing copy using sub-headings, and bullet points.
Keep one eye on the target audience and another on the matter you want to convey. It is necessary to strike a balance between the two.
Always remember, in writing style is so important that at times style, in itself, becomes substance.
Add relevant "call to action" at important junctures in your web pages. This will help you increase conversion.
Do not talk about attributes, talk about benefits.
Build the story until it reaches to climax in the last line where you should add the ultimate call to action.
Do not make pages multi-focused.
Define model target audience of the website before writing copy for them.
Use short sentences and short and simple paragraphs.
Keep the content jargon free.
List the benefit.
Make the benefit as clear as possible.
Copy is what determines the future of the website. The more time you will invest in creating the copy, better will be the future of your website.
Tags: Attributes, Benefit, Bullet Points, Climax, Conversion, Copy Writing, Different Kinds, Ecosystem, Efficiency, Headings, Jargon, Junctures, Media Vehicles, Paragraphs, Sentences, Target Audience, Types Of Vehicles, Web Pages, Writing Style, Writing Tips